When playing with a new EEG system (home-built or purchased), it is important to start with signals that are easy to obtain. By starting with easy signals, you can more readily confirm that your system is working, or you an more readily trouble-shoot it until it is working. It is for this reason that I always start my EEG hacking by measuring signals from my heart rather than from my brain. The electrocardiogram (ECG, or EKG) is a far stronger signal with a much easier to see structure than the EEG. Plus, to measure ECG, you do not need to put sticky, goopy electrodes in your hair. Yay!
If you have never recorded your own ECG, here I'm going to give a photo tour of how I do it. I happen to be using the
OpenBCI
system, but you can do the same thing with nearly any EEG system. For example, when I first got my
OpenEEG
board from Olimex, I tested with ECG. It worked just fine.
Using OpenBCI to Record my Heart Signals (ECG) from my Left Wrist and Right Wrist (my right wrist not shown because it is holding the camera!)
ECG Overview
EEG is the measurement of the electrical signals generated by your brain. By contrast, ECG is the measurement of the electrical signals generated by your heart. When the heart contracts, it generates a relatively strong electrical gradient in your body. With electrodes on your skin, you can measure the difference in potential (ie, voltage) across your body caused by your heart. That's what the ECG records.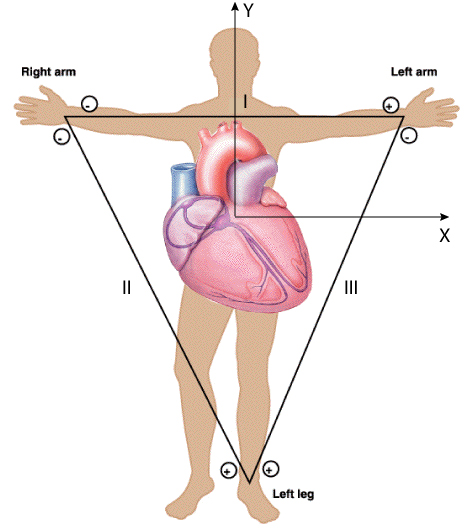 ECG Can Be Measured Across Many Locations. I'm going to use my two wrists.
Any measurement of electric voltage is a comparison of electrical potential between two different locations in space. Therefore, to record one's ECG (or EEG), you need to attach at least two electrodes to your body. Given that ECG signals are so strong, you have lots of choices of where to put your electrodes. The only requirement is that your two measurement locations are on either side of the heart. For me, my wrists are a very convenient, so that's where I'm going to attach my electrodes.
Hardware Needed
To measure one's ECG, you need electrodes to attach to your skin, you need wires to connect the electrodes to your electronics, you need some signal acquisition electronics that are appropriate for biosignals, and you need a computer and some software to record and visualize the ECG signals. I'm going to talk about each of these elements in the sections that follow.
Electrodes:
Electrodes are simply pieces of metal that are electrically connected to your skin. As long as you make good contact, nearly anything can be used as an electrode...they do not have to be specific to ECG. If you don't want to get ECG electrodes, you could use EEG electrodes, you could use a piece of copper tape, or you can even use a piece of bare wire (if you can keep it attached to your skin). But, I want to make this easy for myself, so I'm going to use cheap, disposable ECG electrodes.
I like the disposable ECG electrodes because they are self-adhesive, they come with conductive gel already attached, and they have a nice little button snap for attaching lead wires. They can be purchased from many, many places on-line. One source is
BioPac
, where they are $0.38 each. You can find them even cheaper, if you search around.
To put them on your skin, many websites talk about preparing your skin with an abrasive rub followed by alcohol. While this is important if you want high-fidelity signals, we don't need this kind of quality. We're just trying to see if our electronics work. Therefore, no preparation is necessary. Simply find a piece of skin without too much hair (for me, that's the inside of my wrists), peel off the paper backing, and stick them to your skin. Easy!
Self-Adhesive Disposable ECG Electrodes Stuck to my Wrists.
ECG Lead Wires:
With the electrodes on the wrists, you need wires to bring the signals back to your electronics. Again, there is no magic here. You can use any wire. Because I'm making life easy for myself, I bought some ECG lead wires that are made to connect to the button snaps on the ECG electrodes. There are several different styles of these wires...some with snaps and some with clips. I happened to get the ones with clips, but it doesn't really matter. As when buying the electrodes, you can buy lead wires lots of different places. I don't remember where I got mine. Some are available from
Biopac
, or you can just check out
Amazon
.
The ECG lead wires that I use. They have nice clips on the ends (picture on right) for attaching to ECG electrodes. They also have the "touchproof" connectors on the other end for connecting to standard ECG electrodes. Alternatively, you can use plain wire, if you prefer.
When selecting which lead wires to buy/make, the only trick is in the connector that attaches to the electronics. Most ECG leads come with these nice little push-plugs that are referred to as "touchproof connectors". They have this name because the electrical contacts are fully shrouded by plastic and can't be touched. Note that EEG electrodes often come with the same type of connectors, too, which makes the ECG/EEG transition easy. While you can always just cut off the connectors and use the raw wire, I like these connectors. The challenge with the touchproof connectors is that they come in a few different diameters. So, if you want to use the connectors, it's good to know what diameter connectors are on your wires so that you can buy the correct mating jacks. My lead wires happened to have 1.5 mm connectors.
Since my EEG electrodes have the same 1.5 mm touchproof plugs as my ECG lead wires, it made sense to me to invest the time and money to buy the mating touchproof jacks. I bought some 1.5 mm touchproof jacks from
PlasticsOne
. I happened to buy
the panel-mount version
, but
PCB mount
would also be a good choice. At over $3 each, these are not cheap. They are convenient, though. I mounted the jacks to a scrap piece of plastic and soldered on some wires to go to my electronics. Easy.
Electronics:
The whole point of this exercise is to use my heart signals as a way of testing my EEG electronics. So, for me, I'll be using EEG electronics (OpenBCI, OpenEEG, whatever). But, if you were just doing ECG, ECG signals are generally stronger, which means that the electronics do not need to have such low self-noise. As a result, ECG electronics tend to be cheaper than EEG electronics. Regardless, I'm using EEG electronics. In this case, I'm using OpenBCI.
For my setup, I connect one lead wire to "Input 1" (the "+" input) and one lead wire to the common reference input, "SRB" (the "-" input). See the picture below.
Computer and Software:
Obviously, any computer will work...you just need one that will connect to your ECG/EEG electronics. OpenBCI interfaces to the computer via an Arduino Uno. That part is easy. The harder part is what software to use on the PC. You could use the custom displays that we have made for OpenBCI. Or, following up from
my last post
, you could use BrainBay, which is an open source biosignal analysis program for Windows. I recently wrote a software interface for OpenBCI to allow its data to be received and processed by BrainBay. That's what I'm going to use here.
ECG Results
With the setup that I described above, I started BrainBay, relaxed my wrists (muscle contractions make electricity, too, which can mask the ECG signal), and watched my ECG data scroll by on the BrainBay display. Some example data is shown below. It should the ECG signal recorded for four heart beats. It's always comforting to scientifically confirm that one's heart is beating.
ECG Signal Recorded using OpenBCI and Visualized using BrainBay.
I find the ECG signal itself to be fascinating. Each component of the waveform corresponds to action in a different part of the heart. Below, I've excerpted one heart beat from the waveform above and have shown it with annotations. The little bump (downward in my data above) is the "P-wave", which is the atria contracting to push blood to the ventricles. The sharp spike is the "R-wave", which is main contraction of the ventricles to push blood out to the body. The big long bump is the "T-wave", which is the ventricles relaxing and re-polarizing to get ready for the next heart beat. Note that usually the R-wave is much bigger and that the P- and T-waves are inverted compared to this trace, so I probably just had some wires plugged in backwards. Still, all the components are there and they look pretty good.
Compared to the challenges in measuring EEG signals from the scalp, I find that ECG is way easier to measure reliably. That's why I use it as my first test of an EEG system. If I stick electrodes on my wrists and don't see a signal like that shown above, I know that something is wrong with the electronics and not my body. If you find yourself hacking EEG systems for fun, you might want to consider using this technique as well. Plus, you might learn something about ECG and your heart, which is cool, too!
Follow-Up: In trying
my homemade electrodes
, I used ECG as my first test.
Follow-Up: I also was able to
measure EOG using a similar setup
.
Follow-Up: I've now tried to share the data from this post
on my github
. Try it!